For over 50 years, Gulfport has had ordinances that define items that are eligible for pick-up when by the road in front of a residence (or behind a residence in improved alleys) – not on vacant lots.
However, due to the aftermath of hurricanes and the clean up efforts that followed, we never got back to normal, and we are now facing a trash pile situation that is unsightly, unsanitary, and unsustainable.
This must change, and we are implementing a return to the original ordinances, which means any non-approved items placed roadside will be considered improperly dumped, with fines to follow.
Most waste items should be placed in the garbage bin, and small piles of yard waste should be in bags, when possible, which can be placed curbside.
Our data shows that 19% of residents are responsible for 100% of these piles, and everyone pays for it.
Commercial businesses, rental properties, contractors, tree surgeons, and residents are responsible for removing and disposing of large items.
Local landfill information and responsive maps are below.
Beginning March 6th, we will implement a new pickup system.
Waste Management Pecan Grove Landfill
Pecan Grove will take household trash and construction and debris and the first 300 lbs are free with proof of  Harrison County residence.
After that, the gate rate applies:
$8.10 per yard with a $45 minimum
Coastal Recyclers C&D Landfill
Acceptable Materials:
Non-hazardous construction/demolition debris, and yard/green waste.
Click the button below for hours and contact information for rates.
Show Community Pride by Volunteering!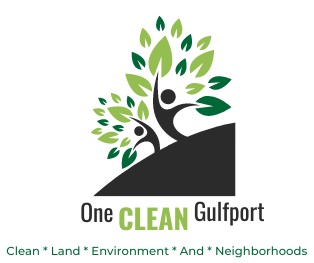 OCG is recruiting volunteers to serve as prevention educators in the community, and to become a dedicated standing group, the CLEAN Coast Corps (CCC). CCC volunteers will serve on a regular basis to assist with community clean-ups and other activities devoted to mitigating litter, illegal and curbside dumping, and property blight in the Gulfport area.
Together, we can be proud of our city and keep Gulfport clean and beautiful!